Step 6. Connect to Salesforce
At the Connect to Salesforce step of the wizard, connect to a Salesforce organization that will be automatically added to Veeam Backup for Salesforce and protected by the default backup policy. The backup policy is created by Veeam Backup for Salesforce during the initial configuration unless you disabled the default policy creation at step 3 of the wizard. For more information on backup policies, see Performing Backup.
To connect to the organization, do the following:
Choose whether you want to connect to a

Salesforce

organization hosted on a production instance, sandbox instance or custom domain.
If you select the Custom option, you must also provide the organization domain name. If you specify a lightning.force.com, my.salesforce-sites.com or my.site.com domain names, keep in mind that the product will automatically change this name to my.salesforce.com.
Provide the consumer key and consumer secret created in the Connected App, and click

Connect

. You will be redirected to the

Salesforce

authentication webpage.
To learn how to create the key and the secret, see this Veeam KB article.
Important
It takes up to 10 minutes for Salesforce to apply any changes in a Connected App. During this time you may get an error that key and secret pair is not active or a callback URL is configured incorrectly.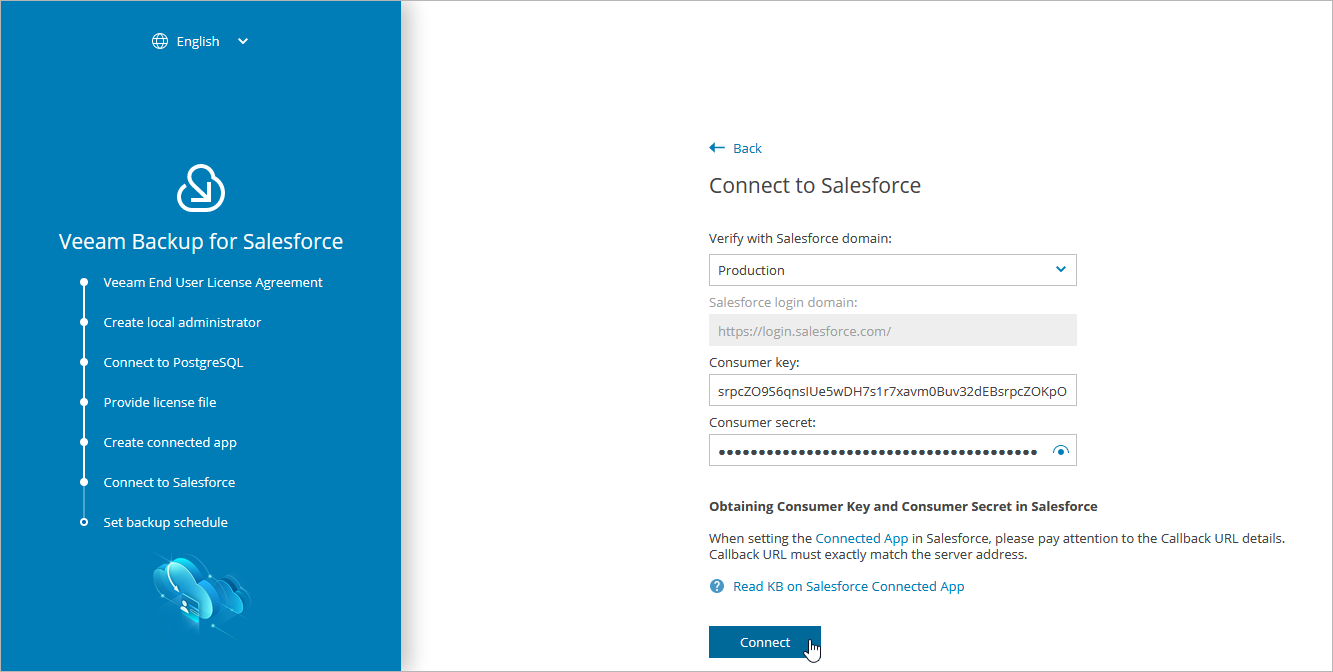 On the

Salesforce

authentication webpage, enter credentials of an account created in the

Salesforce

organization that you want to protect, and click

Log in

.
The specified account must be assigned permissions required for Veeam Backup for Salesforce to be able to perform backup and restore operations. For more information, see Required Permissions.
Note
Veeam Backup for Salesforce does not have access to Salesforce user credentials. To authorize and access Salesforce data, Veeam Backup for Salesforce uses OAuth tokens of the Connected App created during the initial configuration. You can change the Connected App as described in section Changing Connected App Tokens, but you must consider that after changing the Connected App, you will have to re-authorize all Salesforce connections added to Veeam Backup for Salesforce.
Back to the

Veeam Backup for Salesforce

wizard, click

Next

to proceed with the initial configuration.