Viewing Session Statistics
Once you invoke the export procedure, Veeam shows the Restore Session progress dialog that informs you of the current export status.
You can close the dialog by clicking the Close button in the lower-right corner and let Veeam perform export in the background.
As each export session saves its results to the configuration database, you can review them at any time.
To review the export session results, do the following:
In the inventory pane, go to the

History

view and select the

Restore

>

Export

node.

In the working area, double-click a machine for which you want to review the session results or right-click a machine and select

Statistics

.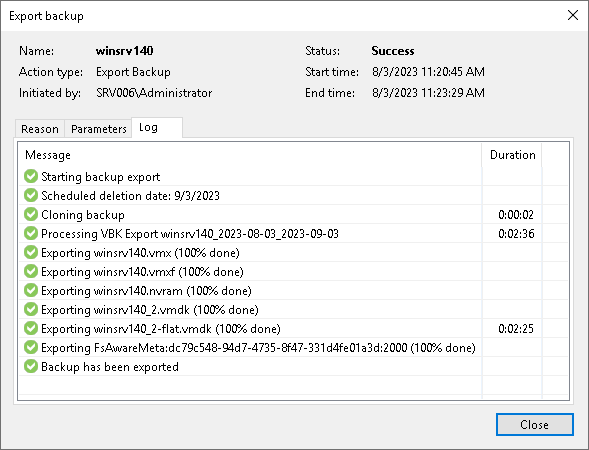 The Restore Session dialog contains the following tabs:
The

Reason

tab — shows you the reason of export you may have provided at the

Specify Export Reason

step of the wizard.

The

Parameters

tab — shows you the date when the exported backup files will be removed due to the retention policy you may have configured at the

Select Restore Points to Export

step of the wizard. In this tab you can also find a backup name and Date/time of a restore point that was synthesized into a full backup file.

The

Log

tab — shows you the actual export progress.
Canceling Session
To cancel a session, open the Restore Session dialog, as described in steps 1–2 above, and click Cancel restore task in the upper-right corner of the dialog.