Advanced Deployment
For mid-size and large-scale Hyper-V environments with a great number of backup and replication jobs, the advanced deployment scenario can be a good choice.
The advanced deployment includes the following components:
Virtual infrastructure servers —

Hyper-V

hosts used as source and target for backup and replication.

Backup server — a configuration and control center of the backup infrastructure.

Off-host backup proxy — a "data mover" component used to retrieve VM data from the source datastore, process it and deliver to the target.

Backup repository — a location used to store backup files and auxiliary replica files.

Dedicated mount servers — component required for VM guest OS files and application items restore to the original location.

Dedicated guest interaction proxies — components used to deploy the non-persistent runtime components or persistent agent components in Microsoft Windows VMs.
In the advanced deployment scenario, data processing is shifted from the Hyper-V server to an off-host backup proxy — a dedicated machine that is deployed on the source side, closer to the source Hyper-V host. The off-host backup proxy functions as a "data mover", processing VM data and mediating the backup traffic from source to target. Therefore, the job processing overhead and data transport is offloaded from the source Hyper-V host.
In the advanced deployment scenario, backup data is no longer stored to the backup repository on the backup server. Instead, data is transported to dedicated backup repositories. The backup server becomes a "manager" for off-host backup proxies and backup repositories.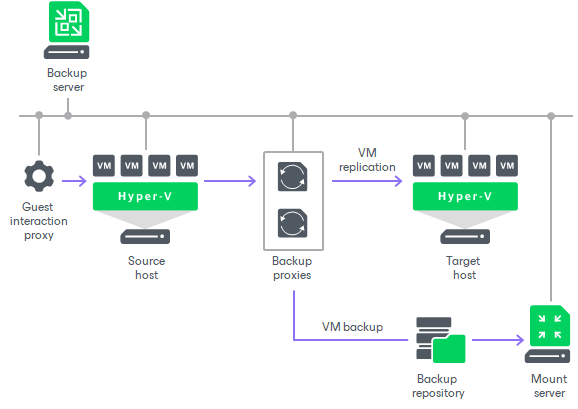 With the advanced deployment scenario, you can expand your backup infrastructure horizontally in a matter of minutes to meet your data protection requirements. Instead of growing the number of backup servers or constantly tuning job scheduling, you can install multiple backup infrastructure components and distribute the backup workload among them. The installation process is fully automated, which simplifies deployment and maintenance of the backup infrastructure in your virtual environment.
In virtual environments with several proxies, Veeam Backup & Replication dynamically distributes the backup traffic among these proxies. A job can be explicitly mapped to a specific proxy. Alternatively, you can let Veeam Backup & Replication choose an off-host backup proxy. In this case, Veeam Backup & Replication will check settings of available backup proxies and select the most appropriate one for the job. The backup proxy should have access to the source and target hosts, and to backup repositories to which files will be written.
To regulate the backup load, you can specify the maximum number of concurrent tasks per backup proxy and set up throttling rules to limit the proxy bandwidth. For a backup repository, you can set the maximum number of concurrent tasks and define a combined data rate.
Related Topics