Step 1. Create Request for Data Restore
This procedure is performed by the Veeam Backup Administrator on the backup server.
Import encrypted backup to the

Veeam Backup & Replication

console.

Select the imported backup and click

Specify Password

on the ribbon or right-click the backup and select

Specify password

.

In the

Specify Password

window, click the

I have lost the password

link.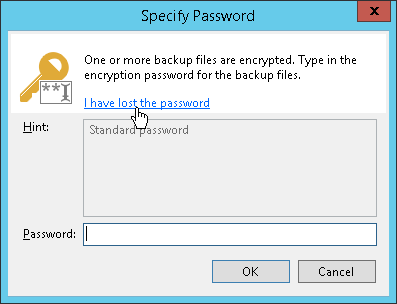 Veeam Backup & Replication

will launch the

Encryption Key Restore

wizard. At the

Request

step of the wizard, review the generated request for data recovery. Use buttons at the bottom of the wizard to copy the request to the clipboard or save the request to a text file.

Send the copied request by email or pass it in any other way to the

Veeam Backup Enterprise Manager

Administrator.
Tip
You can close the Encryption Key Restore wizard on the backup server and start it anew when you receive a response from the Veeam Backup Enterprise Manager Administrator.