Step 8. Configure Network Settings
[This step applies only if you have selected the Restore to new location, or with different settings option at the Restore Mode step of the wizard]
At the Network step of the wizard, do the following for each EC2 instance in the list:
Select an EC2 instance and click

Edit

.

In the

Network settings

section of the opened window, choose to which Amazon VPC a restored EC2 instance must be connected, select a subnet in which the EC2 instance will be launched and security groups (virtual firewalls) that must be associated with the restored EC2 instance. To select security groups, click

Browse

to the right of

Security group

. Then, in the

Select Security Group

window, add security groups that must be associated with the instance, and click

Save

.
For a VPC, subnet and security group to be displayed in the lists of available network specifications, they must be created in the AWS Region specified at step 5 of the wizard as described in AWS Documentation.
If you restore EC2 instances to the AWS Outpost, for an Outpost subnet to be displayed in the Subnet drop-down list, choose the Amazon VPC that has one or more Outpost subnets.
Important
When Veeam Backup for AWS backs up EC2 instances with IPv6 addresses assigned, it does not save the addresses. That is why when you restore these instances, IP addresses are assigned according to the settings specified in AWS for the subnet to which the instances are restored.
In the

Public IP

settings section of the opened window, choose whether you want

Veeam Backup for AWS

to assign a public IP address to the restored instance.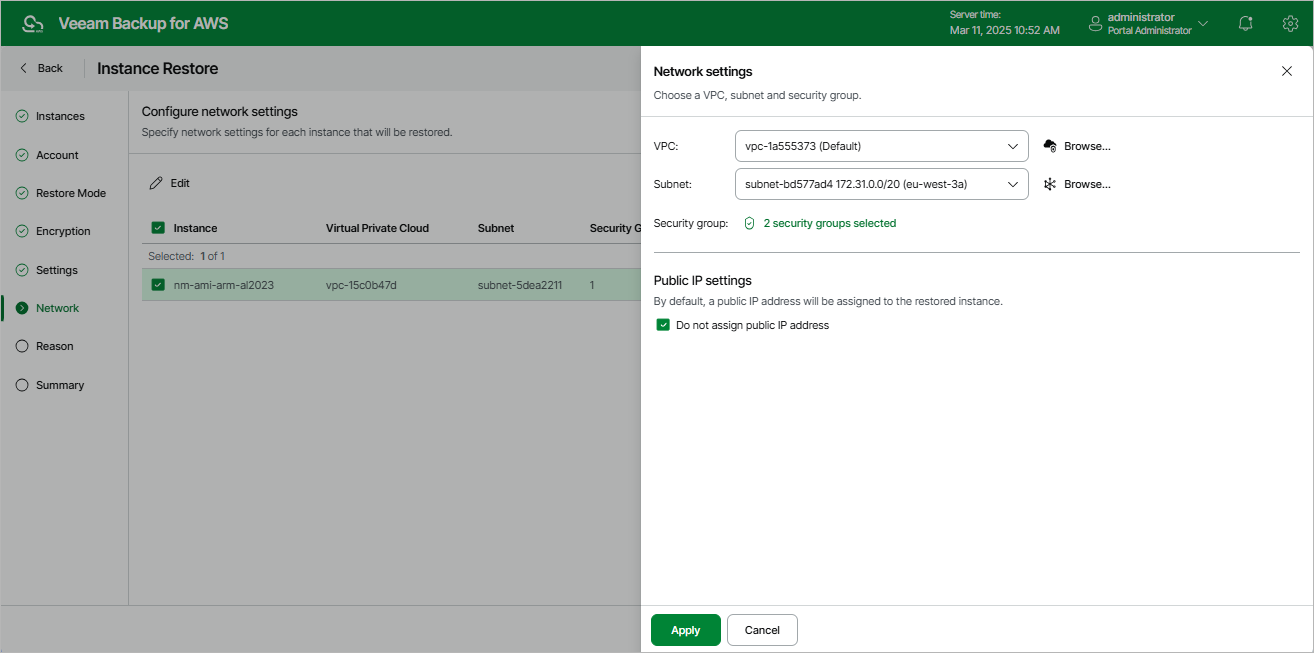 Related Resources